Enables irrigation on balcony or terrace by connecting to indoor taps
The Tap Connector for Indoor Taps by GARDENA means the hassle of carrying watering cans for irrigation is a thing of the past. Attach the hose adapter to a water tap, for example in the kitchen or bathroom. Then you can connect a garden hose to directly reach your flowers, plants or a paddling pool on the balcony, terrace or veranda. Installation is quick and easy. Apart from the included spanner, you don't need any other tools. After you have attached the thread adapter to a tap, you put the Tap Connector on it. Push in the orange slider to lock it and connect the hose, to open it push in the grey slider. The original GARDENA system not only provides you with a stable and watertight connection, it is also possible to attach any connecting device to the hose. The adapter is compatible with all standard water taps with M 24 x 1 internal or M 22 x 1 external thread (not suitable for pressureless or low-pressure water heaters). The water connection connector is frost-proof and UV-stable. The Tap Connector for Indoor Taps is a quality Made-in-Germany. Das original GARDENA system.
---
Light relief


Now you can easily bring water to irrigate your flowers on your terrace or veranda with the tap connector. Save yourself the heavy carrying of watering cans. Watering is fun again!
Bridge the gap
The tap connector can be simply and quickly connected to a kitchen or bathroom tap. A spanner is also included to ensure that fastening or unscrewing the threaded component is as convenient as possible. The indoor tap connector is compatible with all conventional taps with M 24 x 1 female or M 22 x 1 male threading.
Your flexible and versatile friend
Attach a variety of devices simply and safely with the Original GARDENA system.
Just slide it on!

First, place the adapter on the threading that you previously installed on your tap. Now just press the slider to fasten the adapter tightly onto the tap. To remove it, just press the slider in the opposite direction.
Trustworthy product quality
GARDENA produc

ts made in

Germany stand for quality, reliable performance and durability.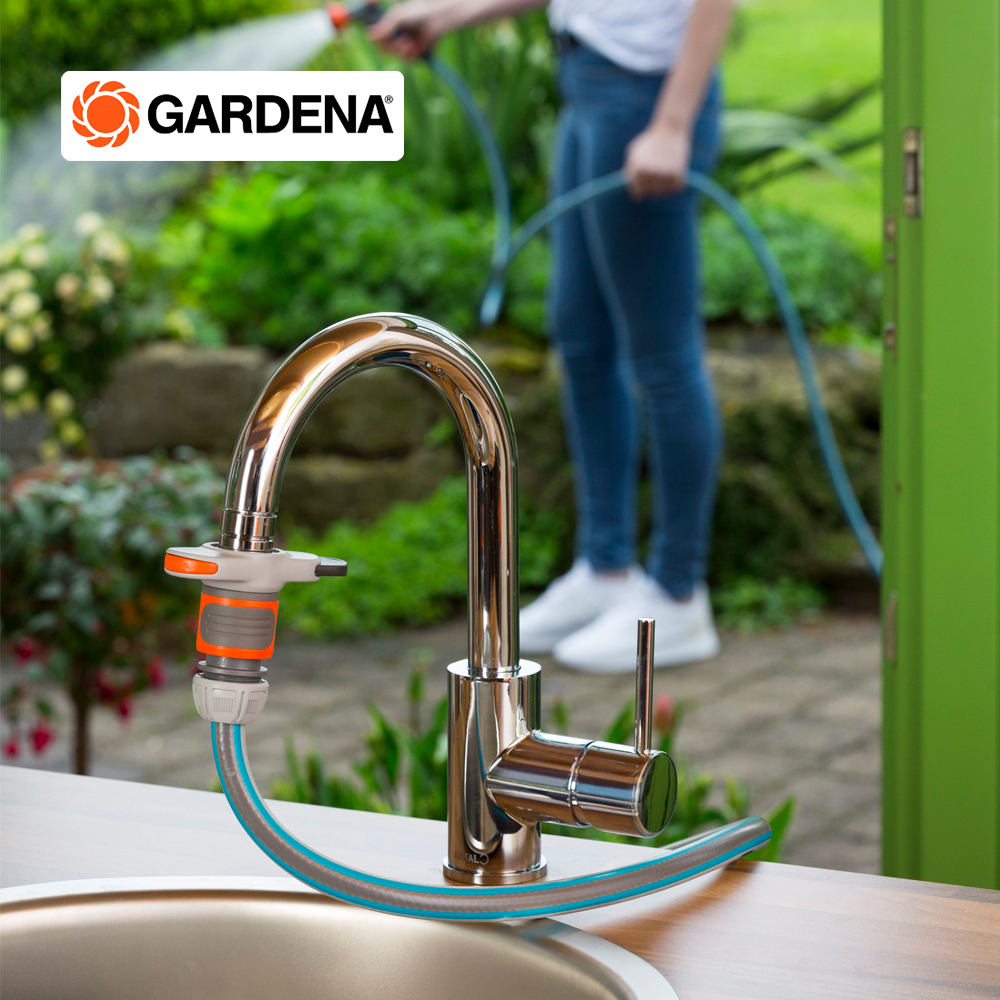 | | |
| --- | --- |
| Power source | Manual |
| Power/fuel type | Manual |
| weight | 3500 g |